BREAKING NEWS
August 23, 2006
Tom Cruise Parts Ways With Studio
Citing Tom Cruise's yearlong metamorphosis from pure box-office phenomenon to pop-culture punch line, Viacom's chairman, Sumner M. Redstone, said Tuesday that Paramount Pictures was ending its 14-year relationship with the actor's production company.
The parting of the ways was anything but amicable. And it came as the latest sign that the media conglomerates that control Hollywood are growing impatient with the megastars who earn the highest salaries. Last year, Mr. Cruise seemed to sprout cracks in his megawatt-smile facade: jumping up and down on Oprah Winfrey's couch to declare his love for the actress Katie Holmes; assailing Brooke Shields for taking prescription drugs to treat postpartum depression; and speaking out publicly against psychiatry and for his religion, Scientology.
One person who had been briefed by Viacom executives said the studio did not want to renew the contract for a production deal that had been reported to cost as much as $10 million a year. "It was a huge reduction in the size," according to the person, who spoke on condition of anonymity. "The issue was the cost of his overhead and his executives. All the studios are getting out of these kinds of relationships."
Eric Weissmann, a Hollywood lawyer since the 1950's, said that what was most surprising about the Paramount-Cruise split was that the studio could simply have decided not to renew the contract. "They don't have to give a reason, and to go public is highly unusual," he said. "This is not a way to get Tom Cruise to cut his fee down. This is cutting the ties."
While Paramount's decision was a shock to the Hollywood status quo, the way in which it was revealed was another sign that movie studios are playing rougher with stars they once coddled, one senior movie studio executive said.
"I think the press has become the weapon of choice for these people," said a studio executive. "These companies are sick of being pushed around. This is indicative of a huge paradigm shift in the industry in terms of what constitutes a star and how much power a star has."
The New York Times
April 2007
S
M
T
W
T
F
S
1
2
3
4
5
6
7
8
9
10
11
12
13
14
15
16
17
18
19
20
21
22
23
24
25
26
27
28
29
30

Paramount Pulls The Plug on Star Power


By: Pete Kendall, August 23, 2006
The net for trapping bull market heroes of all types is clearly widening.
The Elliott Wave Financial Forecast, April 2005
As the bull market movie heroes stumble, foot in mouth like Gibson, or are fired summarily like Cruise because he "effectuates creative suicide" (said Sumner Redstone), an internet search for "X rated horror" now returns four and one half million links, and one can search to their hearts content through list after list of sexy scare flicks, as well as stories of efforts to censor and control them.

Cruise's demotion was sudden, but the "creeping normalcy" of creepy cinema seems just another lullaby, a respite from the war, a vacation from politics.
--Alan Hall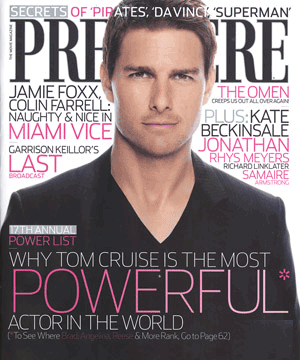 Tom Cruise started out in pictures in the early 1980s when the bull market was getting underway. In 1983, as the Dow Jones Industrial Average said goodbye to the 1000 level, he leapt to fame by starring in the movie Risky Business. In the 1990s and the first half of the 2000s, his films grossed $2.5 billion for Paramount as the Dow climbed over 10,000.


On May 5, three days before the countertrend bear market rally peak in the S&P, Cruise was named "The Most Powerful Actor In the World" by Premiere magazine. It was such a quick trip from that height to getting bounced by Paramount that heads a spinning in Hollywood. "So little makes sense this morning about the stunning war between Cruise and Paramount Pictures that it's hard to know where to begin," says Fox News. "I'm not sure why this happened," Cruise partner Paula Wagner said. "It looks like bad business to me." Paramount could have just released its biggest box office draw walk but the part that no one can believe is that Sumner Redstone, the grand daddy of entertainment executives, kicked Cruise on his way out the door. "It was graceless and it was shocking and offensive," said Cruise's agent. The treatment along with the larger message of a broader Hollywood crackdown and Cruise's "metamorphosis from pure box-office phenomenon to pop-culture punch line" are sure signs of just how deep the social transformation EWI's been tracking over the last several months is set.

Post a comment

RECENT ARTICLES

April 16, 2007
Does Imus Cancellation Radio a Bear Market Signal?
read more
April 12, 2007
One Small Coffee Shop Uprising for Starbucks, a Grande Leap for Labor
read more
April 11, 2007
Dazzling Finish: Cars Bring Once-Boring Shades To Life
read more
April 10, 2007
T in T-Line Stands for Top
read more
April 5, 2007
The Fight for a Free Vermont? Must be a Big, Big Turn
read more
ARTICLE COMMENTS