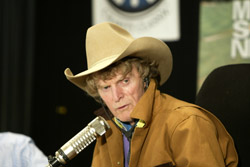 Have you analyzed the bear market conservative actions of taking Imus down yet, or have I missed it? Enjoy your comments and refer back to The Wave Principle of Human Behavior frequently for a roadmap through this difficult terrain.
--tmongle
I've refrained from commenting to this point, because Don Imus is not what I would describe as a classic bull market personality. As a 'serial insulter" and "shock jock" he thrived by making cutting, off-the-cuff remarks. Interestingly, the derogatory remark in which he referred to the members of the Rutgers women's basketball team as "nappy headed hos" did not immediately elicit any public response. It was only after it was redistributed by a left-wing media watch group that the comment became the focal point of a media maelstrom. When his suspension failed to calm the storm and advertisers started to bolt from CBS, Imus was finally fired.
However, Imus career certainly tracks the bull market (click here for a look at his rise in relation to that of the Dow Jones Industrial Average). He came on the air in 1968, the year of an important stock market peak. He brought his brand of "insult humor" which was the forerunner to the "shock jock" radio style that thrived in the 1980s and 1990s to the New York City airwaves in 1971 as the stock market was rising in a countertrend bear market rally. After a stock market rally in 1975/1976, the market fell hard and Imus crashed with it. He was fired in 1977 and sought treatment for drug addiction. He returned to the New York air waves in 1979 as the market staged a mild recovery. In 1982, as stocks hit a bottom that led to the most powerful part of the 1980s bull market, Imus was joined by Howard Stern at WNBC, and together they ruled the airwaves as the bad boys of NYC radio. Stern became a competitor in 1987, but one websites notes that Imus continued to thrive until 1987 when he again entered re-hab. At about the same time, the stock market crashed and his ratings fell. In 1988, as the stock market bounced off his lows, Imus regrouped by eliminating music and reshaping the show as a "forum for political issues and parodies." When the most manic stage of the great bull market was taking off in the early 1990s, the I-man moved up right along with it. He became nationally syndicated in 1993. In 1996, as the stock market mania took full flight, his Imus in the Morning show went live on MSNBC. In 1997, Time magazine named him one of the 25 most influential Americans. Imus remained popular through the current time.
Imus has a long history of racist, anti-semetic and sexist remarks. Occasionally, he has gotten in trouble for some of them. As stocks charged higher, however, these attacks failed to dent his appeal or air time. Now, Imus, CBS and a sizable contingent of backers insisted that an apology and other acts of contrition should allow him to continue, but the pressure mounted, and Imus was shown the door. "In less than one week, Don Imus went from being an asset to CBS to a bleeding liability." One editorial said, "He should have been removed long before." What's different now? Is it because there is a new mood of intolerance and control afoot? Only time will tell, but the stripping of Imus' bullet proof veneer might be an early indicator of this condition, which EWI has previously associated with bear markets in social mood. Apparently there's a place in a bull market for comedic attacks by radio and other entertainment personalities. It you think about it, this makes sense. Drive-time rants are a relatively healthy way for society to vent hostility that will inevitably build up in a fast changing, competitive society. In a bear market, however, society tries to control negative outcomes by putting a lid on forms of expression that are perceived to be negative. Of course, at such times the volume of outrage and hatred is much greater; so the eventual explosions are serious and long lasting.