BREAKING NEWS
October 30, 2006
A Bear of a Driver
Tony Stewart isn't in The Chase for the Championship, but he sure is racing like there's another trophy on the line.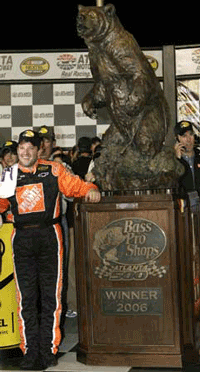 While pretenders were being weeded out of NASCAR's 10-race playoff in Sunday's Bass Pro Shops 500 at Atlanta Motor Speedway, Stewart took home the spoils of victory, easily beating Jimmie Johnson to the finish line by nearly two seconds under the lights.

By winning the race, Stewart got to take home a unique trophy - an eight-foot tall, bronze grizzly bear weighing 280 pounds.

"Bob (Nardelli, CEO of Home Depot) was cheering us on and our buddy from Bass Pro Shops (founder, Johnny Morris)," Stewart said. "I told him the other night in Macon when we opened up his Bass Pro Shop, 'I want that bear real, real bad.'"
Macon Telegraph
April 2007
S
M
T
W
T
F
S
1
2
3
4
5
6
7
8
9
10
11
12
13
14
15
16
17
18
19
20
21
22
23
24
25
26
27
28
29
30

NASCAR Shifts Into Reverse


By: Pete Kendall, October 31, 2006
For some strange reason, bears seem to be grabbing the headlines.
Sociotimes, June 27, 2006

We've talked about the rising of popularity of bears and their tendency to appear on the cultural scene at appropriate junctures (see Socio Times entry of June 27). This might be another example. What's even more interesting, from a socionomic point of view, is that "NASCAR's television ratings, after years of acceleration, have shifted into reverse." Not including two races that were shifted to Monday's, national ratings are down 8.2 percent from 5.42 last year to 4.75 so far this year. NASCAR's blames a lack of promotion by NBC, but another key measure of popularity, attendance, is also down. "This sport which once couldn't seem to print tickets fast enough suddenly finds itself at a crossroads." NASCAR and the "Need For Speed" emerged at the beginning of Cycle III in the late 1940s and went big time with the establishment of asphalt speedways in the 1950s. After years of steady growth, the sport boomed in the bull market of the 1960s. At the beginning of Cycle V in 1976, "the Daytona 500 was one of the first races aired on television in its entirety." As Cycle V pressed higher, "sponsors grew during the '80s and '90s," and "so did drivers' earnings." Now, however, NASCAR ratings are clearly diverging from the uptrend in the Dow Jones Industrial Average, which suggests that there may, in fact, be a larger significance behind Tony Stewart's 280-pound bear trophy.
Post a comment

RECENT ARTICLES

April 16, 2007
Does Imus Cancellation Radio a Bear Market Signal?
read more
April 12, 2007
One Small Coffee Shop Uprising for Starbucks, a Grande Leap for Labor
read more
April 11, 2007
Dazzling Finish: Cars Bring Once-Boring Shades To Life
read more
April 10, 2007
T in T-Line Stands for Top
read more
April 5, 2007
The Fight for a Free Vermont? Must be a Big, Big Turn
read more
ARTICLE COMMENTS