BREAKING NEWS
October 22, 2007
'Night' Reigns Over Dark Box Office
Moviegoers flock to light fare for weekend
The bleak shall not inherit the box office. A slew of newcomers, most of them R-rated and dour, opened Friday hoping to catch fire with moviegoers and awards voters.Instead, vampires ruled the night — and day — as the comic-book adaptation 30 Days of Night trounced the competition. It was the least-serious fare that flourished. 30 Days of Night, a vampire thriller, was an easy winner after it took in $16 million, according to estimates from Nielsen EDI. George Clooney's political thriller, Michael Clayton, was fourth with $7.1 million. Gone Baby Gone, the story of a child abduction by first-time director Ben Affleck, was the only other newcomer to crack the top five; it met expectations with fifth place and $6 million.
Most of the other films — many of which were anchored by past Academy Award winners — did not meet expectations, thanks to a crowded field and dark subject matter that kept moviegoers away.
"We're happy with our numbers, but it's disappointing that these similar movies all chose this date to open," says Daniel Battsek, president of Miramax, which released Gone. "Everyone got crammed on the same day."
Indeed, four R-rated movies geared toward older adults opened Friday, and only 30 Days of Night broke from the pack."You've got some very good movies out there, but it's tough out there when you're going for the same audience," says Rory Bruer, distribution head for Sony Pictures, which released 30 Days of Night.
"We had a unique film and audience, and were able to put it out to them. But when you're going for the same audience, you're going to see fragmentation." The downbeat tenor drove business south. Ticket sales were down 5% from last weekend and 10% from the same weekend last year.
USA Today
February 2008
S
M
T
W
T
F
S
1
2
3
4
5
6
7
8
9
10
11
12
13
14
15
16
17
18
19
20
21
22
23
24
25
26
27
28
29

At the Movies: Vampires End Rule of Light Comedies


By: Pete Kendall, October 22, 2007
Until recently, the last bear market era, the 1970s, was largely considered cinematic wasteland because of its use of gore, sex, violence and dark themes. In recent months, however, its reliance on this more subversive subject matter has been cheered as a "groundbreaking" achievement.
The Elliott Wave Financial Forecast, December 2003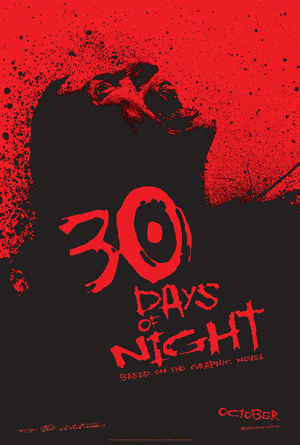 As the quote above illustrates, dark themes emerged as a dominant trend in film back near the end of the last major stock market decline in 2003. Since then, upbeat Disney cartoons and action hero favorites like Superman Returns have battled it out for box office supremacy with horror films like Saw I, II and III and serious, tear jerkers like Million Dollar Baby.
At this point, the bear market fare appears to have the upper hand as the latest issue of USA Today just classified 30 Days, a movie in which vampires attempt to massacre an entire town, as "light fare." It seems Hollywood is so immersed in dark themes that vampires can actually be considered "light." Hollywood producers and actors are definitely trending toward the dark side. But other box office results do suggest that the influence of the uptrend remains strong. Another reviewer of the weekend box office take notes: "Kidnapping, torture and heroin addiction — no wonder audiences chose good times. Aside from 30 Days of Night, the top 10 was littered with lighter fare, including last week's winner, Why Did I Get Married with $12.1 million. Coming in third place in its fourth week, the Rock's The Game Plan continued its early fall dominance, scoring $8.1 million. The family flick brought its cumulative gross up to nearly $70 million." The results are similar to the mix of positive and negative events in the financial world as the Dow, the primary measure of social mood, is still very close to all-time highs, but the potential for carnage is becoming increasing visible in the banking sector. Zombies can pass for the living for only so long. In time, audiences will follow the lead of the a-listers and producers who have already succumbed to the dark side.
Post a comment

RECENT ARTICLES

February 4, 2008
Bull Market Instruments Now Multiply Strength of Decline
read more
January 17, 2008
Road Signs: Staying a Step Ahead of a Big Economic Turn
read more
January 7, 2008
The Race for U.S. President 'Embodies' Desire for Change
read more
December 7, 2007
From Oslo to Silicon Valley, Big Turn Is a Total Crack Up
read more
December 5, 2007
Howard's Fall & Rudd's Rise Take Australia Back to 1929
read more
ARTICLE COMMENTS