BREAKING NEWS
May 5, 2007
Wall Street Predator to Make a Comeback
Greed is still good. Or so those at 20th Century Fox hope. Even as their boss, Rupert Murdoch, pursued an uninvited takeover bid for Dow Jones this week, Fox movie executives quietly sealed a deal to revive Gordon Gekko, the suspender-loving financial prowler who made grabbing seem good in Oliver Stone's 1987 film, "Wall Street."
When last seen, the corrupt Gekko, an Oscar-winning role for Michael Douglas, was on the brink of surrendering his white cuffs for handcuffs, having been sold out by his protégé Bud Fox, played by Charlie Sheen.
"He went to jail," acknowledged Edward R. Pressman, who produced the original movie and reached an agreement with Fox this week to develop a sequel in which Mr. Douglas will resume his machinations on a global scale in the hedge-fund era. The title will be "Money Never Sleeps," after one of Gekko's guiding principles in the first film.
"Wall Street" was only a modest hit when Fox released it. But it won a passionate following in the financial world, where many found something to love in the predatory Gekko. Speaking by telephone from Bermuda, Mr. Douglas said he wouldn't mind if he never had "one more drunken Wall Street broker come up to me and say, 'You're the man!' "
But a restyled Gekko, he predicted, might start setting trends all over again. "If you weren't wearing suspenders before 'Wall Street,' you were certainly wearing them after," he said. As for moral development, don't expect too much from a villain who taught us that lunch is for wimps, and who bragged: "I create nothing. I own."
The New York Times
May 2007
S
M
T
W
T
F
S
1
2
3
4
5
6
7
8
9
10
11
12
13
14
15
16
17
18
19
20
21
22
23
24
25
26
27
28
29
30
31

Wall St.'s Gordon Gekko Returns Right on Schedule


By: Pete Kendall, May 7, 2007
Like the peak of 1987, which was soon followed by the movie Wall Street and Gordon Gekko's "greed is good" credo, the current stock-market peak now has a cynical, feature-length motion picture to encapsulate its excesses. In a story "to match the giddy heights of the Dow," 'Boiler Room' is a "gritty" drama that explores "the shady side of Wall Street." Its best moment, according to one review, is when its huckster brokers watch "Michael Douglas and Charlie Sheen in Wall Street on a giant TV and mouth their words from memory."
The Elliott Wave Financial Forecast, March 2000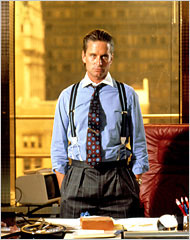 Prehaps the sequel will be too late to mark another stock market peak. -- Andy

Bianco Research notes, "If history is going to repeat, the market has some time. The script is not due until later this year, meaning the movie is at least a year away, if not longer." But as we noted in March 2000, Wall Street didn't actually appear until December 1987, which was four months after the August 1987 peak. Then February 2000, when the Dow Jones Industrial Average was a month past its peak, brought the Boiler Room echo that EWFF used to help identify a huge peak. At this point, many of the very same, real life corporate predators are back – men like Henry Kravis, T. Boone Pickens, Stephen Schwarzman, Leon Black and Carl Icahn are making headlines for the same types of deals. If anything, they've taken the extreme willingness to buy up companies with OPM (other people's money) to heights that are way beyond what they did in the late 1980s. So, of course, Gordon Gekko is coming out of retirement. The money is just too good pass up. For an in-depth profile of the world of financial engineering's latest flights of fancy see the Special Report in this month's issue of The Elliott Wave Financial Forecast.

In an interesting parallel to another key date in stock market history, a subscriber notes that another Wall Street came out in 1929, the year of the other famous crash. This one was directed by Roy William Neill and starred Ralph Ince, Aileen Pringle, Sam De Grasse, Philip Strange, and Freddie Burke Frederick. It too, followed the peak by about three months. So, the record suggests strongly that investors better not wait for the premiere of Money Never Sleeps to sell.
Post a comment

RECENT ARTICLES

May 11, 2007
Symphony Hall Presents a Rising Bull Market in Anger
read more
May 9, 2007
C'mon Big Spender, For Mania's Sake Don't Stop Now
read more
May 8, 2007
Bear Market Revs Up With Rigged, One-Sided NASCAR
read more
May 8, 2007
Pulled Under by the Life Saver of Financial Innovation
read more
May 7, 2007
Wall St.'s Gordon Gekko Returns Right on Schedule
read more
ARTICLE COMMENTS