BREAKING NEWS
March 20, 2007
Bally Total Fitness In a Tailspin
The news keeps getting worse about Bally Total Fitness (BFT). Last week was the double whammy, first the company announced it would be late with its SEC filings, then it announced that it may have to file for Chapter 11 bankruptcy.

On 3/16/07 Bally shares fell to 80 cents from $1.99 -- a 60% drop -- in mid-afternoon trading on the New York Stock Exchange. As this story is being posted the stock is trading at around $1 a share.

The challenge, the company faces is: would any prospective member knowing of Bally's woes want to join this organization and its current state of affairs? Less members obviously means less revenue, and hence a downward tailspin.

Remember, the migration of travelers from troubled airlines. Travelers felt, they may get stranded somewhere, or at the very least would lose their frequent flyer miles, so they simply stop traveling with troubled airlines. The same holds true with troubled health clubs.
Is the Current "Fit" Health Club Model In Trouble?
Is this indicative that the current health club model that caters to the less than 40-year-old crowd, no longer works? This audience has been the backbone of Bally's marketing strategy using rock stars in their commercials. There are several other national chains that also follow this model and have to be asking themselves some serious questions.

In September 2006, at the SIBEC North America conference, IHRSA released some rather startling figures. It turns out that there are more health clubs, but less health club members to go around. More clubs are competing for less people. So clearly, those business models, apparently such as Bally, are at great risk of the shakeout.
Fitcommerce.com
April 2007
S
M
T
W
T
F
S
1
2
3
4
5
6
7
8
9
10
11
12
13
14
15
16
17
18
19
20
21
22
23
24
25
26
27
28
29
30

Toward Total Fatness: Urge to Exercise Goes the Way of Bally


By: Pete Kendall, March 23, 2007
In a rising mood trend, people are disposed to expending effort, both mental and physical, which elevates the ideal of fitness. In a falling mood trend, they are disposed to avoiding effort, which leads to physical laziness.
The Elliott Wave Principle of Human Social Behavior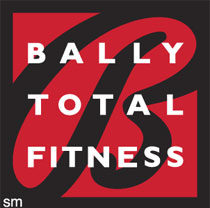 The plunge in Bally Total Fitness is a good example of what can happen after a stock sells off 90%. It can lose another 90+%. Back in 2004, Bally was rallying off its March 2003 the there were many optimistic admirers of the stock. One frequently cited bullish note, for instance, was that its real estate alone was worth more than its current market capitalization. Here's how The Elliott Wave Financial Forecast assessed its prospects:
No Gain, Lots of Pain
Back in the 1980s, one of the very first cultural trends The Elliott Wave Theorist identified as a by-product of the bull market was the move toward physical fitness: "There was a new energy building in the early 1980s, and humans had to express it by running, lifting and jumping up and down." In the late 1990s, the corresponding forecast was for more sedentary lifestyles to grab hold. The dynamics behind the transformation are described in The Wave Principle of Human Social Behavior (1999). Ample evidence of its arrival is captured in the chart of the premier fitness stock, bally total Fitness, which fell almost 90% to a low of $4.36 in March 2003 (see chart p.9). Since then, it has rebounded somewhat, but the rally in fitness has been accompanied by all kinds of evidence of a falling rather than a rising underlying trend. Instead of a grassroots jogging or aerobics craze, for instance, the hot new thing in exercise has been toward regimens with bearish overtones such as kick boxing and military style workouts. According to a recent issue of the Wall Street Journal roughly 700 gyms now offer boot-camps:
'Drop, You Maggot,
and Give Me Twenty'
Gyms Push Extreme Workouts
To Counter Exercise Ennui
Sounds like a good reason not to exercise: Getting up before dawn and crawling around on your belly in Central Park, while getting hollered at by an ex-Navy Seal.
It turns out that a growing number of people are willing to pay good money for workouts like that. In the latest response to the health-club industry's perpetual dilemma how to keep workout-averse patrons working out gyms and personal trainers are pushing an array of aggressive fitness plans based on everything from U.S. military boot camps, to Soviet-style weightlifting regimens.

In an alternative bear-market survival technique, fitness clubs have embraced the racy sexual mores of the bear market (see August issue), making striptease workouts the new thing. Strip Workouts for Every Woman is a strong seller on Amazon.com. In another effort to literally broaden their appeal, Bally's has started to highlight "full bodied fashion models" in its ads. "Americans are gaining weight, and health clubs don't want to be left out." Many fitness clubs have also added cooking classes to their offerings. In other words, the meager, one-year uptick has more to do with self-indulgence, self-defense and punishment, than self-improvement. The genuine article, a fresh grassroots passion for getting fit, will come again, but not for years and not until people swear off finance as the best road to self-improvement.

Most people will assume that Bally's problems are due to mismanagement or some other aspect of its own individual circumstances, but the basis for EWFF's forecast was an anticipation of structural weakness in the fitness industry as a whole. As the article at left and the charts below indicate, this vulnerability is starting to show.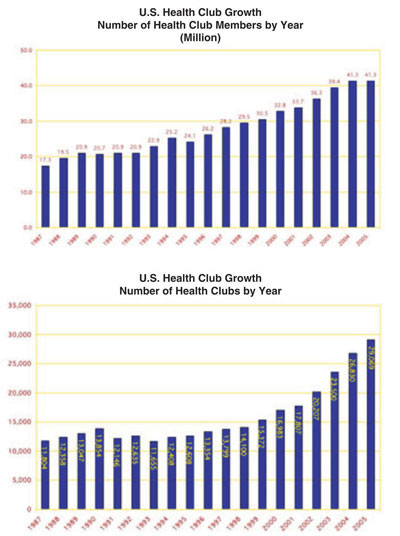 The divergence between the rising number of clubs and a one year decline in the number of members (as of 2005) is exactly what we would expect to see at the end of a long fitness boom. More important is the larger implication which is offered in the quote from HSB at the top of this entry. As the treadmills and weight machines fall silent, the stock market should experience a steady slide. In a bear market, laying around becomes and art form and people who spend time at the gym are squares.
Post a comment

RECENT ARTICLES

April 16, 2007
Does Imus Cancellation Radio a Bear Market Signal?
read more
April 12, 2007
One Small Coffee Shop Uprising for Starbucks, a Grande Leap for Labor
read more
April 11, 2007
Dazzling Finish: Cars Bring Once-Boring Shades To Life
read more
April 10, 2007
T in T-Line Stands for Top
read more
April 5, 2007
The Fight for a Free Vermont? Must be a Big, Big Turn
read more
ARTICLE COMMENTS