BREAKING NEWS
January 11, 2007
Beginning of End for Beckham?
England's international star faces fade to obscurity with leap to MLS
LONDON - After playing alongside Ronaldo and Zinedine Zidane in Real Madrid's star-studded lineup, David Beckham will be the biggest star in Major League Soccer when he joins the Los Angeles Galaxy in August.
Signing a five-year deal reportedly worth about $250 million, the former England captain will wear the Galaxy's green and gold shirts after having worn the red of Manchester United and the white of Europe's most successful club, Real Madrid.
But is this a new beginning or the highly lucrative end of a career that was going stale?
When he went to Madrid 3½ years ago, Beckham joined some of the game's biggest stars, dubbed "galacticos" — roughly meaning "All Galaxy." Since he moved to Spain, however, he hasn't won a major title with Madrid.
It can be argued that this is Beckham in the dying throes of his career. A move to MLS spells farewell to Beckham as a star on the international stage.
Instead of playing in front of 90,000 fans at Madrid and Barcelona, Beckham will perform in stadiums that now attract about 8,000 for some MLS games — though his presence inevitably will boost attendance.
If Beckham can get more fans going to games and more youngsters kicking soccer balls instead of picking up basketballs and baseballs, he says he will be happy. Whether he maintains his competitive spirit and zest for the game is another issue.
The Associated Press
April 2007
S
M
T
W
T
F
S
1
2
3
4
5
6
7
8
9
10
11
12
13
14
15
16
17
18
19
20
21
22
23
24
25
26
27
28
29
30

Beckham Scores A New High For Bull Market Sports


By: Pete Kendall, January 12, 2007
After some relatively tame seasons, contracts for baseball and soccer players are skyrocketing again.
The Elliott Wave Financial Forecast, December 2006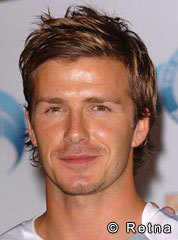 Almost $1 million a week for kicking a ball around? This is definitely a manifestation of the great peak in social psychology, but as the December issue of The Elliott Wave Financial Forecast observed (see full entry in Additional References below), there's something missing from the latest upward thrust. In various ways, it lacks the vitality of late 1990s, 2000 and even 2004. Here's another example. Beckham's new contract is the highest ever for an athlete. But on the field, Beckham's move to the U.S. doesn't hold the promise of his starts with Manchester United in 1995 or Real Madrid in 2003. Beckham's skills are clearly in decline. Just like EWI's count for the Dow Jones Industrial Average, Beckham's true peak came back at the turn of the century when he led Man United to victory in the 1999 English Championship, the FA Cup and the all-Europe Champions League.
At this point, Beckham's fame itself is the attraction. His move to Los Angeles "creates a desperately needed buzz for the sport." Issues of The Elliott Wave Financial Forecast describe the peak experience of 2006 and early 2007 and note, "In finance, desperation and hope are an explosive combination." The question is what lies beyond the latest rally. Our forecast is calls for a memorable reversal of fortune for stocks as well as ballplayers.
Additional References
December 2006, EWFF
One More Wacky Time for Bidders
Apparently, when it comes to toy crazes, the great mania wants to leave off right where it started. For the first time since Christmas 1999, there's a bona-fide bidding frenzy surrounding a must-have toy—Elmo TMX, or Tickle Me Extreme. The toy is actually the 10th anniversary edition of Tickle Me Elmo, which sparked the first holiday bidding frenzy in 1996. When $10 Tickle Me Elmos brought as much as $10,000, here's what The Elliott Wave Theorist said about the phenomenon:
People are buying these toys even though they know that Elmos will flood the store once the holidays are past. Why would anyone bid serious money for an asset that has virtually no chance of retaining its value? The only possible explanation is that the act of buying, or more precisely, of pushing up prices, is turning people on.
So far, Elmo TMX is not generating the price appreciation of the original. The range on eBay appears to be $50 to $140. Still for an item that is probably overpriced at $40 retail and likely to fall fast after Christmas, it bears the unmistakably daffy thumbprint of the great mania. Other tried and true manifestations of the craziness have appeared in the usual places. After some relatively tame seasons, contracts for baseball and soccer players are skyrocketing again. Manchester United's Wayne Rooney just signed a £100 million, six-year deal that will make him the highest-paid player in British football history. A 14-ounce bottle of Scotch whisky from the 1850s just sold for $28,700 at auction in London, beating the top presale estimate by almost 50%. The fall art sales broke all the records. More than $1.3 billion in works of art were sold in two weeks. The all-time record performance exhibited "broad strength throughout the market." "Experienced dealers were astonished by some of the prices paid," reports the Financial Times. "The worldwide boom shows no sign of slowing, with hedge fund managers providing a fresh pool of buyers." As EWFF has previously noted, art price spikes marked stock peaks in 1990 and 2000.
Within the markets, the price urgency is evident in IPO stock activity. After a summer lull, IPO volume and prices rose furiously in September and October. November is on track to be the biggest month since 1999, the final year of wave V, when stocks peaked in real terms. Bloomberg's index of aftermarket performance for IPOs came within 1% of its all-time high of March 10, 2000. By 1990s standards, however, the participation within the stock market is muted. Yes, the Dow hit all-time highs, but the S&P small caps remain beneath their May peaks so far, and the S&P 500 and NASDAQ are still below all-time highs. Google, the one focal point of speculative abandon over the last two years, finally managed a new all-time high, but, as the chart and discussion above [not shown] indicate, getting above $500 was something of a struggle. Its breakaway rallies are a thing of the past. The OTC Bulletin board and EWI Bubble Stock Index have been quiet. The stock market's underwhelming participation in the frenzy is another dramatic non-confirmation. Apparently it's hard to get a real party going when everyone still has a hangover.
Post a comment

RECENT ARTICLES

April 16, 2007
Does Imus Cancellation Radio a Bear Market Signal?
read more
April 12, 2007
One Small Coffee Shop Uprising for Starbucks, a Grande Leap for Labor
read more
April 11, 2007
Dazzling Finish: Cars Bring Once-Boring Shades To Life
read more
April 10, 2007
T in T-Line Stands for Top
read more
April 5, 2007
The Fight for a Free Vermont? Must be a Big, Big Turn
read more
ARTICLE COMMENTS