BREAKING NEWS
March 7, 2008
Mozilo, O'Neal and Prince Defend Pay
High-profile ex-banking CEOs
Two high-profile former Wall Street CEOs and the head of the nation's largest home lender defended their oversized pay packages to Congressional lawmakers Friday, arguing that recent reports grossly exaggerated their compensation in some instances.
In testimony prepared for the House Committee on Government and Oversight Reform, Countrywide Financial's founder and CEO Angelo Mozilo, former Merrill Lynch Chairman and CEO Stanley O'Neal and ex-Citigroup chief Charles Prince argued that their pay was determined through an independent assessment process, and was tied directly to the performance of the company.
Mozilo reportedly stood to collect a windfall of $115 million after his firm agreed in January to a yet-to-be completed $4 billion sale to Bank of America. After facing heavy criticism from lawmakers, Mozilo forfeited $37.5 million in payments tied to the deal.
Stanley O'Neal, who relinquished his title as chairman and CEO of Merrill Lynch & Co. in October after the company reported an $8 billion loss on subprime related investments, argued that his compensation was in line with the broader financial services industry and that his pay was determined as "the board saw fit."
Citigroup's Prince stepped down as CEO in November, not long after world's largest bank reported a 57% drop in quarterly earnings and lost nearly a quarter of its market value. Upon his departure from Citigroup in November, Prince left with approximately $68 million.
Calls for accountability have grown louder as the housing market continues to deteriorate and homeowners across the country face foreclosure.
In his opening remarks, Henry Waxman, the Democratic Congressman who chairs the committee, said the purpose of Friday's hearing is to determine whether lofty compensation is justified when companies fail to perform. "The obvious question is how can a few execs do so well when their companies are doing so poorly?" asked Waxman.
--CNNMoney.com

March 2008
S
M
T
W
T
F
S
1
2
3
4
5
6
7
8
9
10
11
12
13
14
15
16
17
18
19
20
21
22
23
24
25
26
27
28
29
30
31

Congress Grills Bankers; 'Oversight Reform' to Follow


By: Pete Kendall, March 7, 2008
"Corporate America, beware. Sooner or later, shareholders and clients are going to rise up and reject you for so obscenely rewarding people who already have so much with even more." --Operator of a Leavenworth, Kansas soup kitchen
Nothing expresses the anger of a bear market like an assault on those who are on top at a top.
The Elliott Wave Financial Forecast, January 2007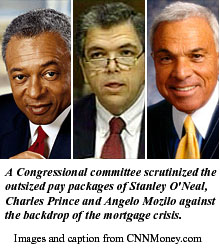 The recrimination wave is breaking right where it should be given the financial realms bear market leadership. The Congressional hearings like these are the kind of things we were talking about last year when we put out our warning to corporate America. This will probably be a large-scale version of what happened in 2002 when Enron and various bull market accounting standards become the focal point of Congressional investigations. At that time, EWFF stated that one of the best ways to "keep a tally on the size" of the bear market was "keep an eye on Congress and other venues of recrimination." Ultimately, the decline into 2002 produced legislative changes like Sarbanes-Oxely, which is now the bane of chief financial officers everywhere. This a stronger signal as it comes just six months from the Dow's all-time high, and, Congress is getting right to the heart of the matter by hauling in the CEOs who were ran the show as the largest brokerage firm, bank and mortgage originator toward the end of the greatest financial euphoria of all time. Was it really only yesterday that getting rich and being a powerful man of finance was a good thing? Far more hearings will no doubt and, ultimately, dramatic new restrictions and regulations will be enacted.
The story quotes an August study from The Institute for Policy Studies and United for a Fair Economy that shows "over the past decade, the growth in executive compensation has drastically outpaced the pay gains experienced by the average American worker. Between 1996 and 2006, CEO pay rose 45%, at a time when the average pay for an American worker grew just 7%." Of course, there's nothing new here. In January 2007, EWFF showed a chart that shows the ratio of CEO to the average worker has actually been growing since 1971. As EWFF noted at that time, "Even though these ratios have been climbing almost every year for this entire span, the issue is now being described as 'unfair, unjustifiable and harmful.' Why? Because the focus of social psychology is shifting from the harmony of the bull market years to a bear market focus on conflict."
Post a comment

RECENT ARTICLES

March 12, 2008
New Diamond Ring Style Makes a Killer Statement
read more
March 10, 2008
Carlyle's Forced Sales Herald the New 'Wallpaper Era'
read more
March 7, 2008
Congress Grills Bankers; 'Oversight Reform' to Follow
read more
February 29, 2008
Are Bad Guy Protagonists Trying to Tell Us Something?
read more
February 4, 2008
Bull Market Instruments Now Multiply Strength of Decline
read more
ARTICLE COMMENTS