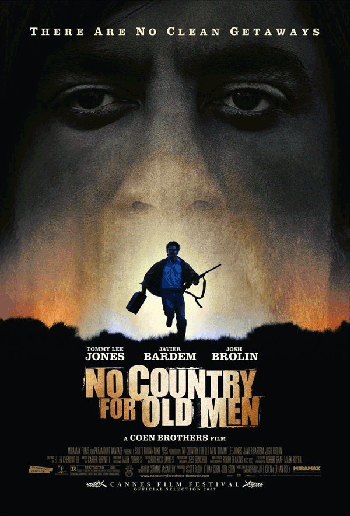 Back in June 2007 as the stock market peak approach, The Elliott Wave Financial Forecast noted emergence of an important new role model: "The anti-hero is increasingly garnering the public's interest." Back in January we were covered the successful premiere of Sweeny Todd, which earned positive reviews and related that The Demon Barber of Fleet Street has deep bear market roots that actually go back to the 1840s when the U.S. was still dealing with the social manifestations of Supercycle wave (II) and British stock prices were locked in a long bear market.
Our stock market opinion is confirmed by this years Oscars, which were literally dominated by anti-hero roles. The most hardware went to No Country for Old Men, "the bloody story of a drug deal gone bad," which won four Oscars including best film. Hollywood is "focused on themes of betrayal, corruption and murder. No Country beat out There Will Be Blood, Michael Clayton and Atonement, three films that also featured dark themes. The fifth nominee, Juno,was a comedy about teen pregnancy." Well, even the 1930s had its screwball comedies.
What's going on? Lisa Dombrowski, an associate professor of film at Wesleyan University, is on the money with this explanation from USA Today's story: "The reflective attitudes of these characters fit the mood of this year." As the latest issue of EWFF says with respect to the markets and economy, there's just no concealing the current position of social mood. In fact, this is confirms our forecast as an element of recognition is exactly what the Wave Principle calls for at this juncture of the wave count. This must be a big turn; the signal is so prominent that it is plainly visible on the silver screen.